The best Cricut font
One of the most well-liked Cricut fonts I've made for Etsy in the last five years is Oliva, a script font, and now you have it for free on the Cricutny website. It's been highly sought-after, even earning the #1 spot in popularity for five years in a row. However, I've recently decided to devote all my time to the Cricutny community in New York and have closed my Etsy shop.
·
This font has become popular because of its thickness, which makes it easier to use for Cricut and Silhouette projects. Additionally, the font's long tails are beautiful and

match perfectly

. It works perfectly on Cricut, Silhouette, and other cutting machines. You can find reviews of the font below, including examples of Cricut projects that may inspire you.
·
Included in this font bundle are the svg files, but it is highly recommended to install all of the TTF font files instead. The Olivia script font has been optimized to avoid the use of SVG files. By installing the TTF font files, you will be able to easily type your text and insert long tail letters by selecting the appropriate font. This process is simple, and even beginners can understand it. If you need any assistance, please don't hesitate to ask for my help.
Create the names and titles in their most beautiful way.
Are you curious about how I turn the letter "c" into a capital "C"? It's actually quite easy – I just type the lowercase "c" and enlarge its size. Pretty straightforward!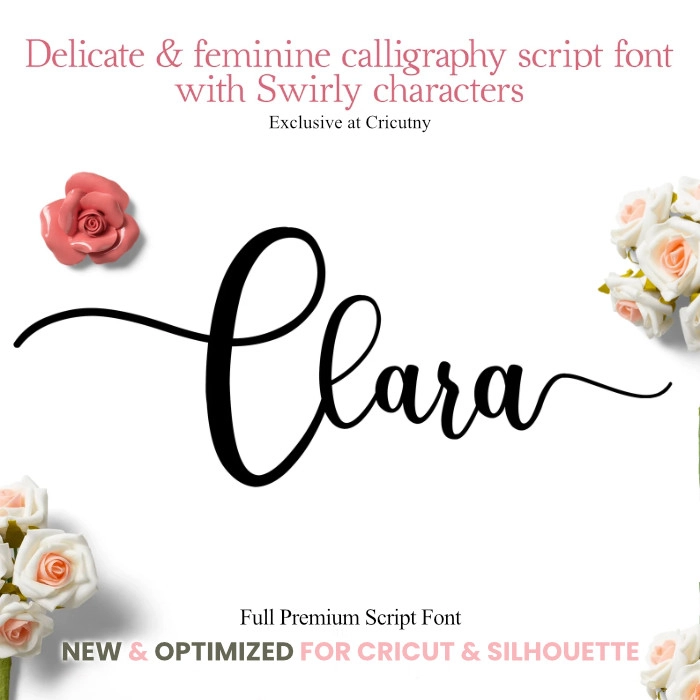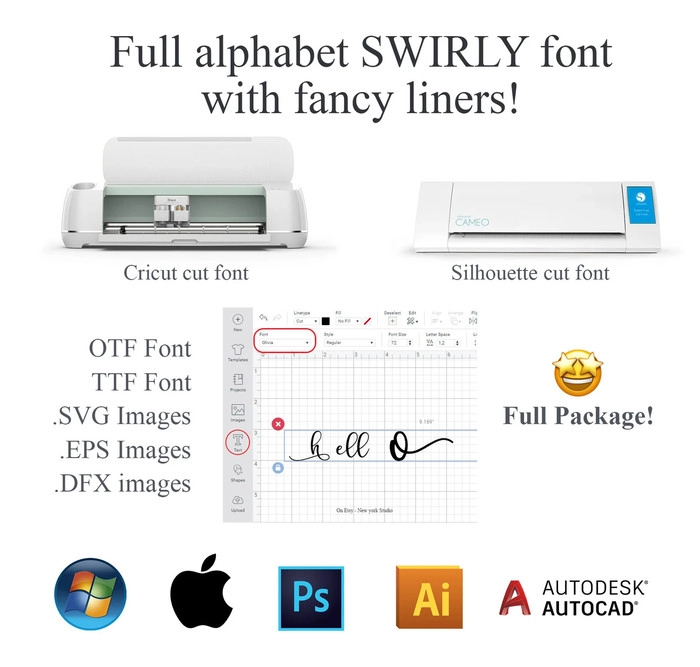 Easily insert long tail letters on both the right and left sides with just one click.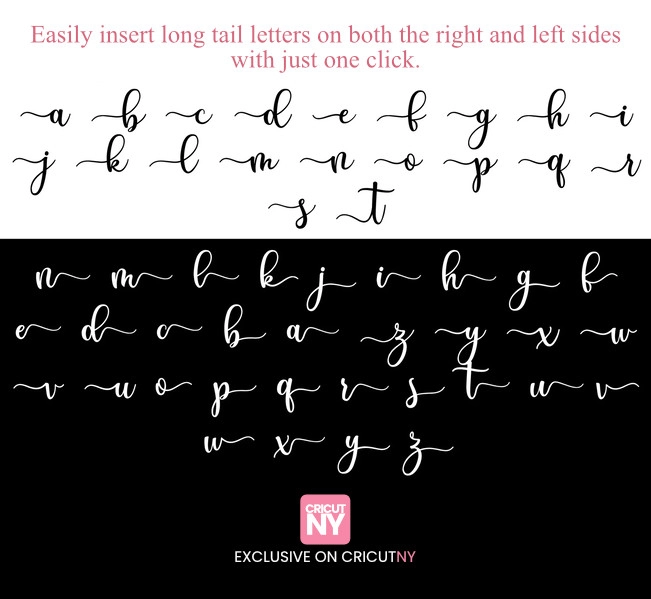 There are some letters that have an extra pair and some that have extra long tails.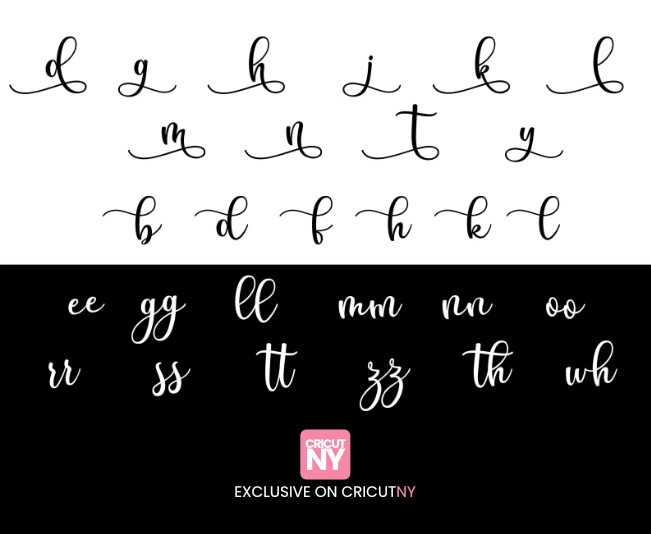 I have the alphabet in Olivia font with both upper and lower case letters. It's great news for French and Spanish speakers as

all the accents are included

.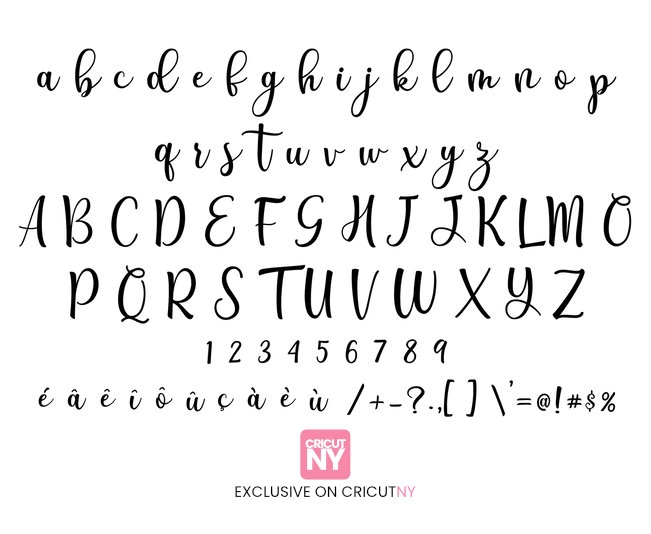 ★ The font can be utilized for both personal and commercial projects.



What's Included:
What's Included:
This font comes with both TTF and OTF file formats. One file is for the regular characters while the other is for the long tail letters. Before using it on Cricut or any other design application, make sure to install both files on your computer or device.
SVG files, Work best on Cricut and with the popular Silhouette Cameo cutting machine. Please note: The SVG files are included, but they are no longer necessary. They are only provided for your convenience.

The Olivia font has been optimized for all cutting machines to make your focus on creating rather than technical stuffs. With this font, you can easily insert long tail letters from your keyboard in just a few clicks, making it feel like magic!
The Olivia script font is compatible with the following:
This font works with a wide range of software and even websites, including Cricut design space, Silhouette Cameo, Canva, Lightburn, Templett, Word (although some versions of Microsoft Word may not allow for special characters, in which case the free software called Libre-office is a great alternative), Gimp, Photoshop, Illustrator, Affinity Photo, Affinity Designer, Maya, Unity, Adobe After Effect, Indesign, Premiere Pro, Final Cut Pro, and Mockup Software.
Commercial License included; Yes, you can use it for your products!
Instant Download, no wait!
Unlimited downloads
Your account is kept secure, and items can be downloaded an unlimited number of times during you keep your account active.
★★★★★
Five star technical support
Support is available every day!
Download the Premium Olivia Script Font + The Entire Shop for Only $4.98 US $3725 (99% Off)
Why is the price so low?
Cricut NY is a community of passionate crafters just like you, and money should not be a barrier to your passion.
DID YOU KNOW: This Font is 100% FREE on your download page. (Remember? You pay only for one item and get the entire shop for free). To compare with Etsy, a professional font or a design (Not a copy, be aware of fake/copycat designs if you plan to print it unless you want a pixelated version) costs between $4 to $50 on Etsy, while here, it's free.
Please, like if you enjoy this font❤️

COMPATIBLE WITH
Cricut Design Space
Silhouette Studio
Canva
ScanNCut
All cutting machines
Design Software/Apps
Text Software/Apps
This Star Spangled and Sassy design is perfect to use with:
• Cricut Design Space
• The Cricut heat press (making T-Shirts)
• Cricut Design Space Mobile
• Microsoft Word & Pages
• Affinity Design
• Affinity Photo
• Adobe Illustrator & Photoshop
• Procreate
• Silhouette Studio
• Scan N Cut
• GIMP
• Sketch
• Affinity Designer
• Gravit
• Coreldraw
• Inkscape
• Make The Cut
• Sure Cuts A lot
• Canva
• Picmonkey & Many More



Windows / MAC / IOS / Android




Windows / MAC


NOTE
Commercial use for this font is allowed
→ unlimited projects
→ unlimited sales
♥ However, you cannot include the files as a free download or redistribute them as a free download. Come on, let's be fair 😉

Thank you! 🙂
Here are a few

reviews

to express appreciation!
★★★★★
Farrah, Atkinson, NH
Easy to download, Easy to upload to Cricut!
★★★★★
Mane, COTTAGE GROVE, MN
A first timer here in the world of cricut fonts, zero experience. The key is reading through the instructions it will save you a lot of frustration and headache. I was able to replicate the sample font 'olivia' into the iron on in one try. Great font, thanks!
★★★★★
Penny, Colorado Springs, CO
Perfect! Thank You So Much! 🙂
★★★★★
Alicia Beam, Columbia, SC
beautiful font, so glad I found your shop!
★★★★★
Yasmeen,
Incredibly beautiful. Made my life easy. thank you 🙂
★★★★★
vmckee2014, from Indianapolis
★★★★★
Fatimah, from Alaska
Thank you 😍❤️
★★★★★
Missy, from New Haven, CT
Easy to download and install. Worked perfectly and was exactly what I wanted for my project.
Unlimited Access
Download Every Files on Cricut NY including this

Olivia script font

for $4.98 $3725
You only pay for one item, and you will access all the fonts and images for free!