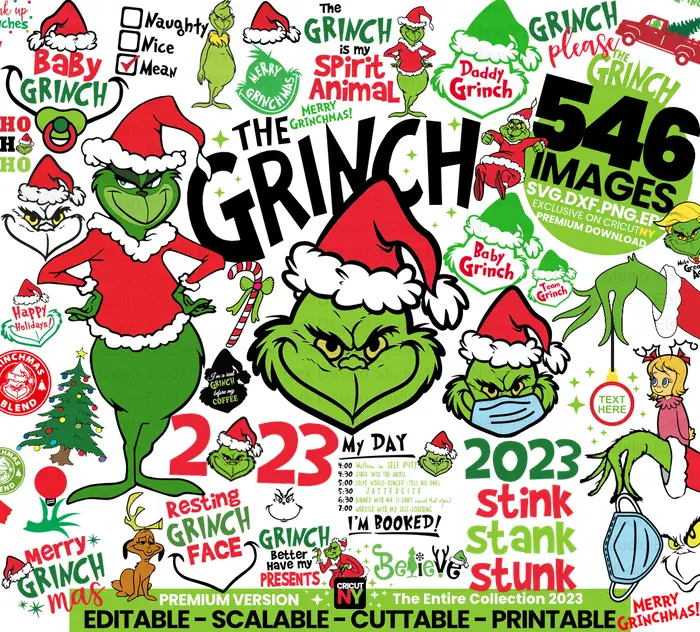 Grinch svg bundle 2023 | 546 Images!
Grinch SVG bundle is Exclusive on Cricutny.com. With over 546 Grinch images, including the most popular; grinch hand holding ornament SVG, images of the grinch who stole Christmas, Christmas ornaments and SVG decorations in one giant bundle ready to download now!
Instant Download, no wait!
Even though all the grinch images for Cricut are optimized for the Cricut design space, it is 100% compatible with Silhouette Cameo and all the cutting machines and the design application, Adobe, Affinity etc.
↓ Please scroll down to view all the 546 Grinch images. ↓
I can't name all the grinch designs, but you will find almost every possible Grinch clipart in this bundle. The grinch face SVG for Cricut, grinch face mask (grinch with mask), grinch face silhouette, grinch hand with ornament svg, all the grinch svg ornament for the whole family: Baby Grinch ornament, daddy grinch ornament, Team grinch ornament, merry Christmas ornament, stink stank stunk ornament, Merry Grinchmas ornament, help me I'm feeling ornament, Aunt grinch ornament, Cindy Lou Who, Max, the dog, Baby Grinch, The grinch sayings SVG  and all the other 546 grinch designs!
Yes, all the grinch files are layered. 🙂
DID YOU KNOW: The Grinch Bundle is 100% FREE on your download page. (Remember? You pay only for one item and get the entire shop for free). To compare with Etsy, a good Grinch bundle (Not a copy, be aware of fake/copycat grinch designs if you plan to print the images unless you want to print a cheap version of the grinch.) costs between $4 to $30 on Etsy, while here, it's free. 
WHAT'S INCLUDED:
File Types Included in this instant download:
SVG, PNG, EPS, DXF
SVG files – 300 DPI high quality
DXF files – 300 DPI high quality
EPS file – 300 DPI high quality
PNG files – 300 DPI high quality
Instructions

Commercial License, Yes you can use it for your products!
Instruction
Sometimes, we just need a little help and that's why i created some easy instruction to understand, even for the newbies! It's included inside the folder.
Unlimited downloads
Your account is kept secure and items can be downloaded an unlimited number of times.
★★★★★
Five star technical support
Support is available every day!
Lowest Price Ever!
Instant download, no wait.
Download 546 Grinch Premium images + The Entire Shop for Only $4.98 US $3100 (99% Off)
You only pay for one item, and you will access all the fonts and images for free!
Or
Download 546 Grinch Premium Images for Only $2.98 US $9.50 (70% Off)
Instant download, no wait.



Everything you see is included in your folder.

This is how I draw the Grinch character. And then, once I have completed the grinch design, I optimize it to an SVG cut file for the Cricut design space and to the other format to match the other cutting machine and design application.

Every Grinch design has been tested.
Why is the price so low?
Cricut NY is a community of passionate crafters just like you, and

money should not be a barrier to your passion

.

COMPATIBLE WITH
Cricut Design Space
Silhouette Studio
Canva
ScanNCut
All cutting machines
Design Software/Apps
Text Software/Apps
This Grinch Bundle is perfect for use in:
• Cricut Design Space
• Cricut Design Space Mobile
• Microsoft Word & Pages
• Affinity Design
• Affinity Photo
• Adobe Illustrator & Photoshop
• Procreate
• Silhouette Studio
• Scan N Cut
• GIMP
• Sketch
• Affinity Designer
• Gravit
• Coreldraw
• Inkscape
• Make The Cut
• Sure Cuts A lot
• Canva
• Picmonkey & Many More



Windows / MAC / IOS / Android




Windows / MAC


NOTE
Commercial use for this image is allowed
→ unlimited projects
→ unlimited sales
♥ However, you cannot include the Grinch files as a free download or redistribute them as a free download.
Thank you! 🙂
How to upload files to cricut design space
Let me show you how to upload your Grinch files to the Cricut design space.
1. Open the Cricut design space app and click on the right top button, "new project."
2. Once your canvas is created, click the "Upload" button on the left.
3. Click on the "Upload Image" button. Selecting the "Image" section and not the "Pattern Fill" section is important. As a side note, all your uploaded files will appear on that page.
4. Click on the "Browse" button. Uploading SVG files is always recommended in Cricut design space because the design can be resized easily without affecting the quality. On top of that, SVG allows editing the colours. Something very fun to do.
5. This is where you will browse your grinch folder and select the image you want to use. In that example, I browsed to the SVG folder where all the SVG files are located and I select the grinch face image. Then, click on the "Open" button.
6. You are almost done! Now that you have uploaded your Image, click on the Grinch Image and the "Add to Canvas" button. That will upload the Image to your canvas.
7. Congratulation, you just uploaded your Grinch image.
Let me give you a quick trick. The fun part of working with SVG files is the editing part.
You can change the colours and remove what you want from the design. To do that, if you look at the right side, this is where all the layers are displayed.
If you need to know what layers are, think of a cake with multi-colour layers. Each colour of the cake is considered to be a layer. That is the same on Cricut.
On Cricut, on the right side, there is a tiny eye icon next to each layer. If you click on the eye icons, the layer will become invisible; You can toggle on and off the eye icon to see what happens.
And if you want to change the colour, you can select a layer, and at the top left, if you click on the colour, the layer will adjust to your desired colour. That's the fun part.
Some of the newest grinch reviews
★★★★★
Robin Harriman, Oklahoma City, OK
★★★★★
Jennifer, Cincinnati, OH
★★★★★
Sharon, Niagara Falls, NY
★★★★☆
Dee
★★★★★
Mary from WhittlersCrafts
★★★★★
Amanda Stawecki, mayspaintedcustoms, US
★★★★★
Lori Johnson, Loriswreathsandmore, Deer Park, TX
★★★★★
Claudine Plummer, lillyscraftyshop, US
Great variety of svg files and easy to download. Thank you
★★★★★
Hoodoo gurl, 05 Oct, 2022
Wow… so amazingly impressed. I cannot wait to use it at work this holiday season!! Highly recommend!!
★★★★★
Lala Smith, 22 Sept, 2022
File quality was awesome, made minor tweaks to achieve what I was looking for.
★★★★★
Sheree Padilla, Seattle, WA
04 Oct, 2022
Clean easy to use files. Good deal for a lot of files. Fastly sent was able to create items the same day with in a few items
Perfect for my project!
This was perfect for my craft project. I cut the grinch face out a vinyl, it was just what I was looking for.
Great files was able to make some earrings!
Love it the svg are amazing
Loveeee it! Thank you! So many to choose from!
Wow. Blown away by this package.
I don't normally leave reviews, but I should get better at that. This bundle, though, deserves all the stars. I bought for the Grinch, and there were even more designs than I thought from the thumbnails.
On top of the Grinch, there were bonus cars, snowflakes, holiday quotes, just a ton of great things.
If all that wasn't enough, New York Design Studio aka.: CricutNY.com uses great fonts in their graphics. I'm personally tired of wading through a lot of designs with overly cutesy, hard to read fonts that hurt my eyes. These are all fluid and legible.
THANKS!
So many great options to choose from! Made a mask for my mom 🙂
Best Price Ever!
Download Every Files on Cricutny including the

Mega grinch bundle

for

only $4.98

$3100
You only pay for one item, and you will access all the fonts and images for free!
Or, Download the grinch Bundle

for only $2.98