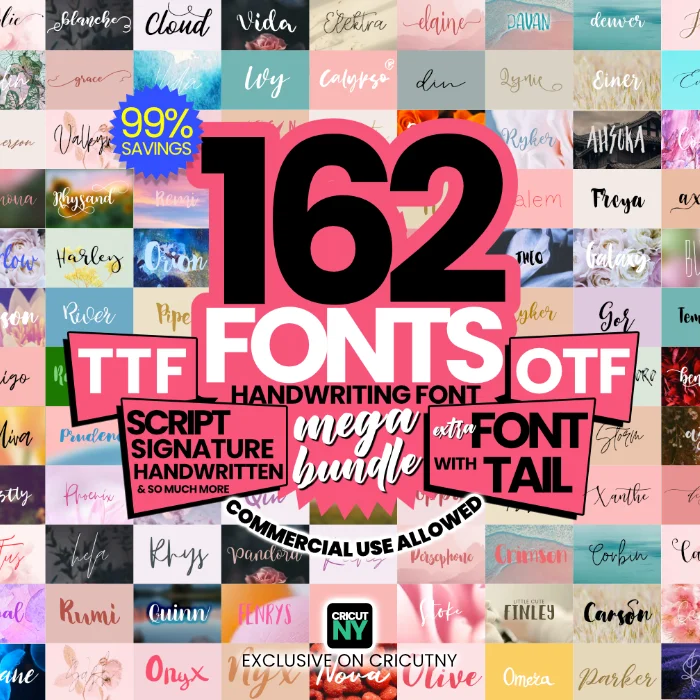 Instant Download, no wait!
"Unlock your creativity with this collection of 162 fonts, including script fonts, handwriting fonts, and more! Let your imagination soar and bring your ideas to life."



I'm super excited to share with you a mega font project that I did for Etsy with the help of my fantastic font designer, Isabelle. We've been working on this for the past six months and have created over 162 fonts! Our main aim was to follow our daily inspiration and create fonts that we felt would perfectly fit you and all the other crafters. We wanted to add a feminine touch to the fonts, so you'll find some with long tail letters and others with fancy letters, too. I hope you love them as much as we do!

To make it easier for you to choose the perfect font for your craft project, a font chart displaying each font's look is included. We have also included charts that reflect the emotions triggered by font style and colors. This information is crucial if you're creating a product you plan to sell. You can choose a font that promotes happiness or any other emotion that aligns with your design, and our chart will help you make an informed decision.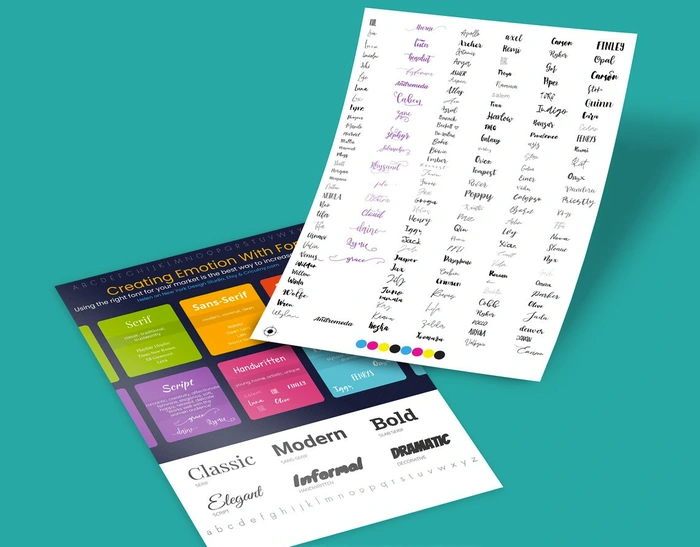 It is important to note that all of our fonts in this bundle contain glyphs (Glyphs are those beautiful long-tail letters and curly lines). This is how we create our fonts. However, unlike our other fonts, which are optimized for Cricut and Silhouette, these 162 fonts require the assistance of a font manager. Luckily, font managers come included for free on both PC and Mac. If you are using a mobile device, you must download a free font manager app to access and view the special characters.
I understand that the art of font crafting can be overwhelming for beginners, especially those using Cricut and Silhouette Studio. Allow me to provide some clarity and guidance for you.
Using fonts is a simple process. First, you must install the desired font on your computer or device. Once installed, you can view the special characters by opening the Character Map on a PC or Font Book on a Mac. To use the font, simply type your text in Cricut or Silhouette. To use a special character, copy and paste it from your font manager to your Cricut or Silhouette canvas. This process is easy to follow.
The Premium 162 Font Bundle + The Entire Shop for Only $4.98 USD $3825 (99% Off)
You only pay for one item, and you will access all the fonts and designs for free! 100% Satisfaction Guaranteed!
Why is the price so low?
At Cricut NY, we believe that everyone should have the opportunity to pursue their crafting passions without financial barriers. Our community is made up of individuals who share this same belief.
Cricut cut files are added regularly! Need something else? Click here to request it
Please, like if you enjoy this massive Font Bundle❤️
Or, Let's share with your friends!
★ The font can be utilized for both personal and commercial projects.
What's Included:
The package contains both TTF and OTF files, but it is recommended to install the TTF font file.
The font bundle comes with a commercial license, which means that you are authorized to use it for your commercial purposes without any restrictions.
Instruction:
·
Commercial use license
Yes, the commercial use for this bundle is allowed for unlimited projects.
Unlimited downloads
Your account is kept secure, and items can be downloaded an unlimited number of times.
★★★★★
Five-Star technical support
Support is available every day!
DID YOU KNOW:

This premium font bundle is 100% FREE on your download page?
Do you remember our special offer? You only pay for one item and you get the entire shop for free.
When comparing our prices with Etsy, please note that a professionally designed font (not a copy, as you should be careful of fake or copycat designs if you plan to print it) can cost anywhere from $4 to $50 on Etsy, while on our site, it is completely free.

COMPATIBLE WITH
Cricut Design Space
Silhouette Studio
ScanNCut
All cutting machines
Canva
Design Software/Apps
Text Software/Apps



Windows / MAC / IOS / Android


The Premium 162 font bundle is perfect to use in:
Terms
♥ Commercial use for the 162 font bundle is allowed
→ unlimited projects!
→ unlimited sales!
→ The commercial license is provided on your download page.
♥ We kindly ask you to refrain from offering the template design and fonts as a free download or redistributing it as a free download. It's important that we all act fairly and respect this rule. Thank you for your understanding.

Thank you! 🙂
Unlimited Access
Download Every Files on Cricut NY including this Premium Font Bundle for $4.98 $3975
You only pay for one item, and you will access all the fonts and images for free!