Instant Download, no wait!
2 Barbie Fonts and 55 Barbie images
The Barbie bundle is highly versatile and user-friendly, offering the ability to edit, scale, cut and print with ease.
Barbie images
Barbie font and Barbie doll clipart images. One of the most requested fonts and designs this month, and now you have it for free on your download page.
This fantastic Barbie bundle contains all the barbie images for Cricut maker (barbie silhouette SVG, barbie head SVG, Ken SVG, barbie clipart black and white, and so much more). Do you prefer PNG images? No problem. You even have high-definition barbie clipart png files. I will name all the Barbie accessories if you scroll down.
All the barbie images are ready to be printed.
Here is a list of everything included in your Barbie image bundle:
2 barbie fonts (SVG and TTF files)

Barbie diamond castle necklace

Barbie dog

Barbie dog mirror

Barbie shoes heels

Barbie ponytail logo

Barbie graduation silhouette

Barbie ponytail black girl

Barbie ponytail hair

Barbie bag

Barbie lipstick

Barbie crown clipart (all the barbie crown images)

Barbie crowns and tiaras

The barbie flower

3 barbie drawing printable

Barbie ribbon

Barbie ken silhouette

Barbie ken logo

and so much more!

Have fun with your barbie crafting!
Barbie fonts
2 TTF font files to install (You can type with your keyboard) + 2 SVG font files (Barbie letters in SVG files as images).
An amazing feature available on Cricut design space is the Barbie font. You can use this font on any cutting machine and with any design application and software, not just limited to Cricut. It's the actual font used by Barbie.
I provide you with the TTF font file so you can install it on your computer or device and type with your keyboard. 
This is the official Barbie font used on their product packaging, available in both cursive and script versions. Impress your daughter(s) with this stylish font! You can also use the Barbie SVG font for Cricut design space, Silhouette Cameo or Inkscape, which includes all the letters of the alphabet.
To create your desired word or name, simply upload the necessary files and utilize the drag-and-drop feature. The process is straightforward and user-friendly.
Many people asked me, "Do you have the barbie like font on Cricut?" Well, there is no need to search for a similar font. You have the real one now.
A word about Etsy: You can find similar barbie SVG on Etsy, but the difference between Etsy and Cricutny website (Here) is it's 100% free here (All you have to do is to pay for one item and everything you see on the Cricutny website is free, including this stunning Barbie bundle, WOWZA!).
Barbie logos
The Barbie bundle includes all the logos from Barbie since its beginning. In 1959, Barbie introduced its first public logo. Over time, Barbie has updated its logo several times, even returning to previous versions. It is important to have access to all the logos to create unique Barbie items for your children or clients. The bundle includes the Barbie SVG logo for use in Cricut design space or the other cutting machine.
Creating a Craft project with Cricut design space (Cricut maker) is very entertaining. You can even create Cricut projects with your children; they will enjoy the moment so much. I hope this Barbie images bundle will create some joy for your family.
Here is what is included in your barbie bundle: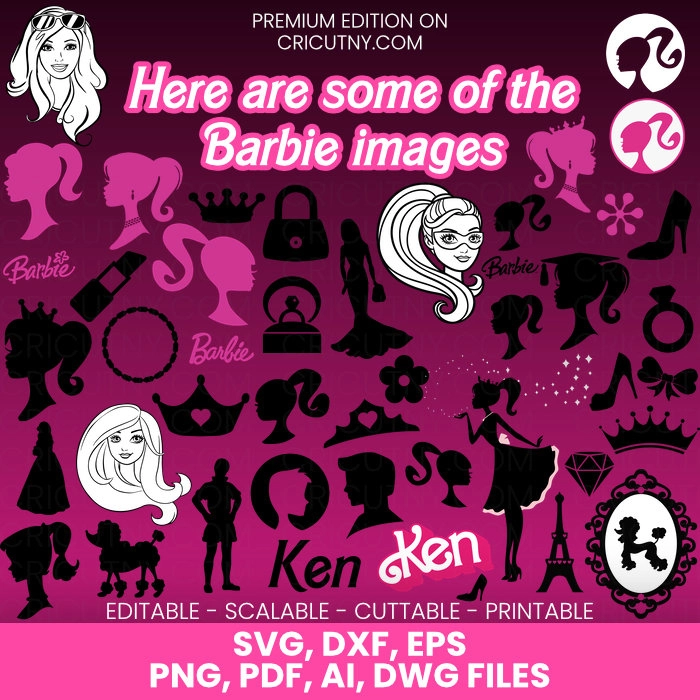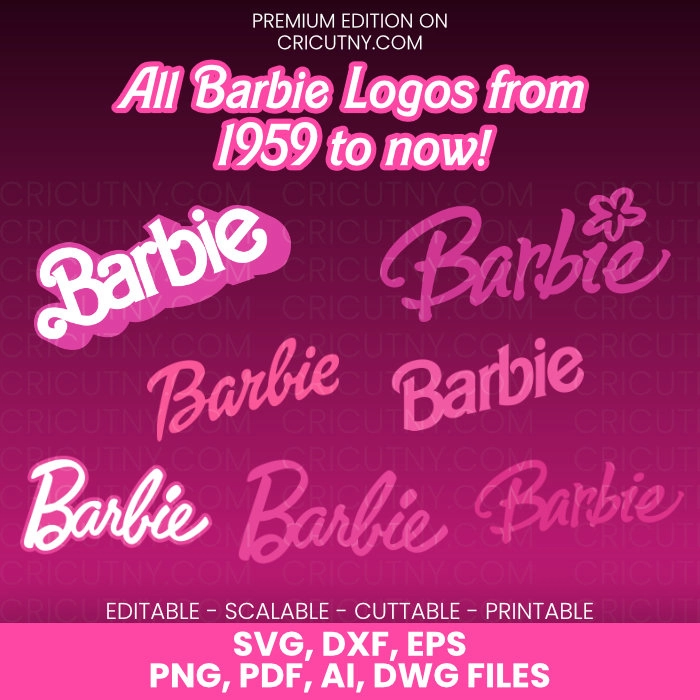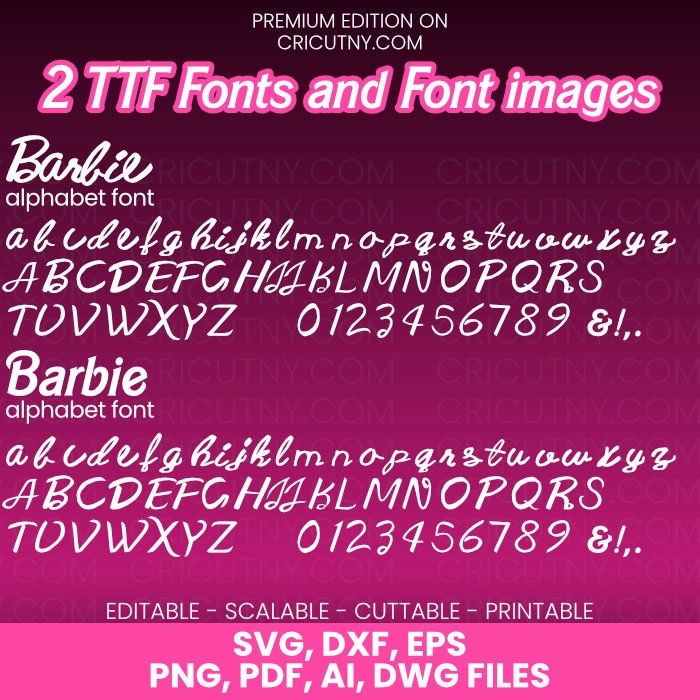 Download the

barbie images bundle



Included: SVG files, JPEG files, DXF files, PNG files, DWG files, PDF files, Ai files, EPS files & the License. 100% Satisfaction Guaranteed!
Barbie images bundle + The Entire Shop for Only $4.98 USD $3700 (99% Off)
You only pay for one item, and you will access all the fonts and images for free! 100% Satisfaction Guaranteed!
Why is the price so low?
At Cricut NY, we believe that everyone should have the opportunity to pursue their crafting passions without financial barriers. Our community is made up of individuals who share this same belief.
Cricut cut files are added regularly! Need something else? Click here to request it
5 Cricut maker projects ideas you can make with the barbie images and the Barbie fonts.
Create mugs, Barbie Girl Cap, and t-shirts with your Cricut Maker and the barbie images and fonts. Why not a barbie bag?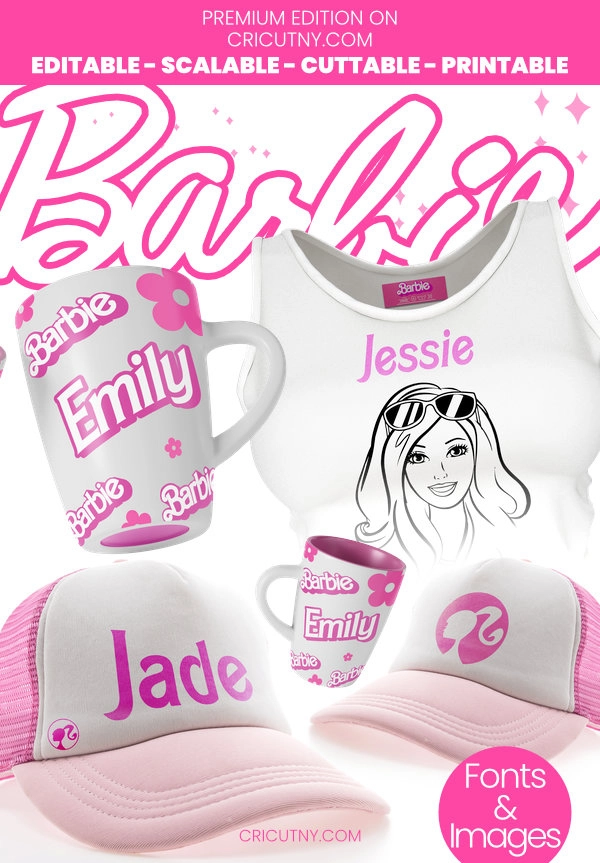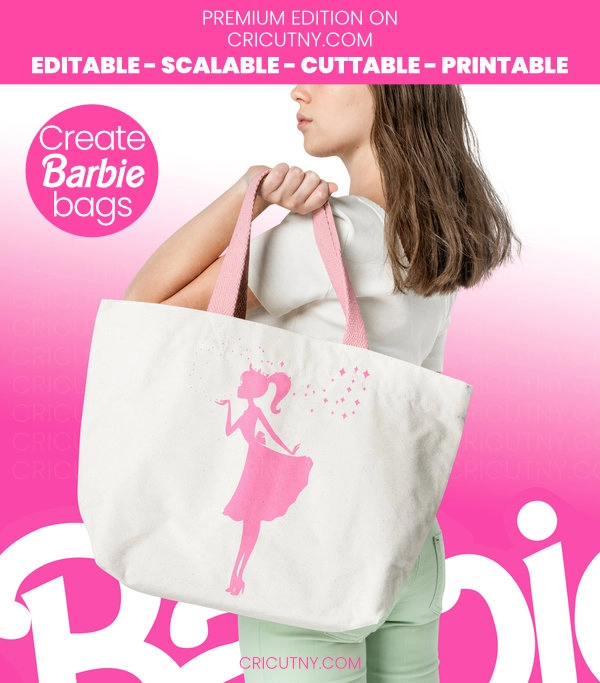 Please, like if you enjoy this Barbie bundle❤️
★ The font can be utilized for both personal and commercial projects.
·
The barbie images bundle is Free on your download page and is fully  compatible with Cricut, Silhouette, Canva, Scan N Cut, Sure Cuts A Lot, Make The Cut, Inkscape, Adobe Illustrator, Adobe Photoshop, Affinity Photo and all the other cutting and design programs.
You can edit, resize and change colours and shape with any vector or cutting software.
Available in download digital files

(barbie images download and barbie fonts)

: 
Barbie SVG files for use with Cricut design space, Silhouette Cameo (Upgrade Edition) and other cutting machines and design application;
Barbie DXF files for use with Cricut design space, Silhouette Cameo (Upgrade Edition) and other cutting machines;
Barbie PNG clipart files with transparent background, 300 DPI.
Barbie EPS files with transparent background, 300 DPI.
Barbie .AI files for Adobe Illustrator, 300 DPI.
Barbie JPG files for print, 300 DPI.
Barbie PDF files with transparent background, 300 DPI.
Barbie DWG files for CAD programs (to develop design sketches).
·
Commercial use license
Yes, the commercial use for this bundle is allowed for unlimited projects.
Instruction
Open Cricut Design Space or Silhouette Studio and upload the SVG file (or the DXF file in Silhouette). The files are ready to print.
Unlimited downloads
Your account is kept secure, and items can be downloaded an unlimited number of times.
★★★★★
Five-Star technical support
Support is available every day!
DID YOU KNOW:

This Barbie Premium Bundle is 100% FREE on your download page?
Do you remember our special offer? You only pay for one item and you get the entire shop for free.
When comparing our prices with Etsy, please note that a professionally designed font (not a copy, as you should be careful of fake or copycat designs if you plan to print it) can cost anywhere from $4 to $50 on Etsy, while on our site, it is completely free.
What are SVG files for Cricut?
Since I noticed that this question is frequently asked at work, I wanted to provide an explanation here to be of assistance.
To make it clear and simple, on Cricut, you can upload the most popular image file. JPEG (JPG), PNG or SVG.
When you upload a JPEG or a PNG image, the image size is fixed on your Cricut canvas. That means you can not resize it bigger, or it will become pixelated. For professional Cricut users, this is where the SVG image format becomes useful.
When you upload an SVG image file, you can easily resize it. Additionally, if the designer created the SVG file with layers, you can remove certain parts of the design and add new elements to it. You can even modify the colors of the design with the help of layers. So, when you come across a stunning design on YouTube or any other online platform, it's highly likely that it was made using a high-quality SVG file with layers by a skilled Cricut crafter.
Now, you know the difference between JPEG or PNG files and SVG files. 

COMPATIBLE WITH
Cricut Design Space
Silhouette Studio
ScanNCut
All cutting machines
Canva
Design Software/Apps
Text Software/Apps



Windows / MAC / IOS / Android


The barbie images bundle is perfect to use in:
Terms
♥ Commercial use for the barbie images bundle is allowed
→ unlimited projects!
→ unlimited sales!
→ The commercial license is provided on your download page.
♥ We kindly ask you to refrain from offering the template design as a free download or redistributing it as a free download. It's important that we all act fairly and respect this rule. Thank you for your understanding.

Thank you! 🙂
Unlimited Access
Download Every Files on Cricut NY for $4.98 $3700
You only pay for one item, and you will access all the fonts and images for free!